As part of our social development programme we as a community support charities both on a local and national level. We believe that this teaches our pupils essential life skills such as compassion and empathy.
We support Children in Need, Red Nose Day, Guide dogs for the Blind and MacMillan Cancer Charity.
Visit to the Food Shed
KS3 girls were invited to visit the Food Shed on Tuesday 11th December  for a talk about the work they do and a tour of their facilities.
Run by Stevenage Vineyard Church, the Food Shed collects donations of food items which are then distributed to local people in need.  Staff and students delivered some donations (pictured) to the Food Shed and we will be volunteering at the Food Shed in January 2019.
A huge thank you to Daniel, who runs the Food Shed, for his time showing our young people around and giving them lots of information on local need.

Donations to the Food Shed from Stevenage ESC staff and students.
SESC Row-a-thon for the Lister Hospital's Bluebell Ward - MAGIC OF PLAY APPEAL
Update
During the summer term 2017, we were very fortunate that Jane Shipley from ELSA came in for a day, along with some people working at Tesco, to show our young people what it is like to run a project.
We were divided into groups and our mission was to organise a fundraising campaign from beginning to end in order to raise money for a charity of our choice.
Miss Lake and I were in a team who wanted to fundraise for a local teenage cancer charity, as it was a cause close to the heart of one of our young people. After some research our group decided to raise money for the Magic of Play Appeal at the Lister hospital. We made banners, designed a logo, and organised a charity Row-a-thon. Tesco agreed to match fund us.
We completed our Row-a-thon in the foyer of Lister Hospital, using a rowing machine kindly loaned to us by Stevenage Leisure. The public were very generous and overall we raised £250. Tesco matched this, so our total donation was £500.
The cheque was presented to the Hospital on Friday 20th October 2017 by two of our students.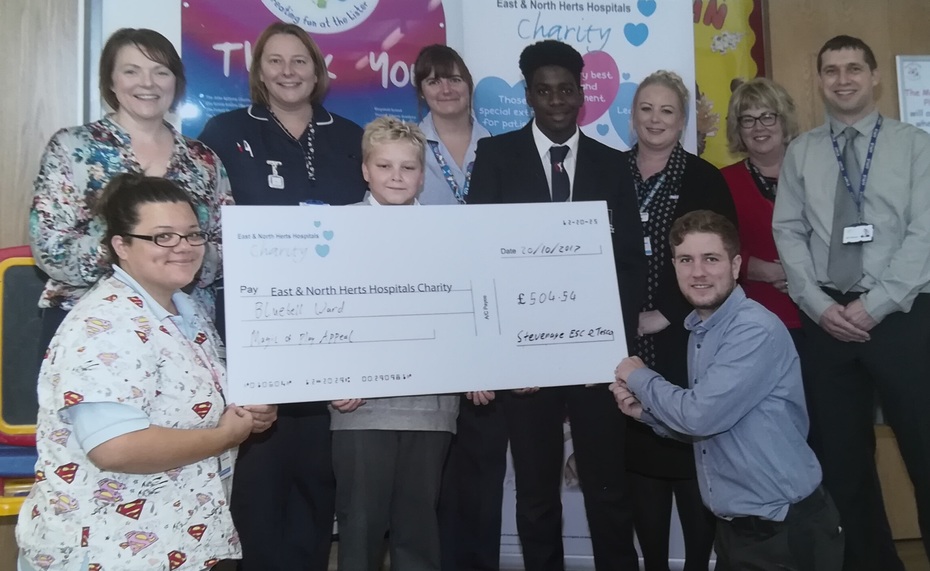 The Bluebell Ward were delighted and have decided to use the money to buy 2 ipads, to make young people's waiting times in hospital a little bit less boring!
Paula Hayward
Macmillan - World's Biggest Coffee Morning - September 2017
Once again SESC baked and ate in aid of Macmillan.  This year we raised an impressive £405.40.
Well done to Gill Briars and all who contributed to this event.
SESC Row-a-thon for the Lister Hospital's Bluebell Ward - MAGIC OF PLAY APPEAL
On Thursday 22nd June 2017 a group of students, Mr Nearney, Mrs Hayward and Miss Lake set off in the minibus to go and raise funds for the Magic of Play Appeal, based at the Lister Hospital.
The Fundraising idea came from an Enterprise day held at the ESC, run by E.L.S.A in association with Tesco.
Jermaine, Redd, Miss Lake and Mrs Hayward's group originally planned a 'Bike-a-Thon' but due to various constraints with gym equipment we decided on a 'Row-a-Thon' instead, with the rowing machine kindly loaned to us by Mark Williams, the Fitness Manager at Stevenage Lifestyles gym in the town.
The event lasted 2 hours and each student who participated rowed in 5 minute sessions, some completing 7 sessions!
The public were very generous and in only 3 hours we raised £135.00.
With other fundraising activities at the Centre, we raised a total of £250.00, which Tesco have agreed to match fund, taking the total raised for the Bluebell Ward to £500.00!
Well done everyone!
Macmillan - World's Biggest Coffee Morning - 30th September 2016
Thank you to all who contributed to this event by bringing, and/or eating cake!
Lots of members of the community came along to this event.
We raised a massive £421.00!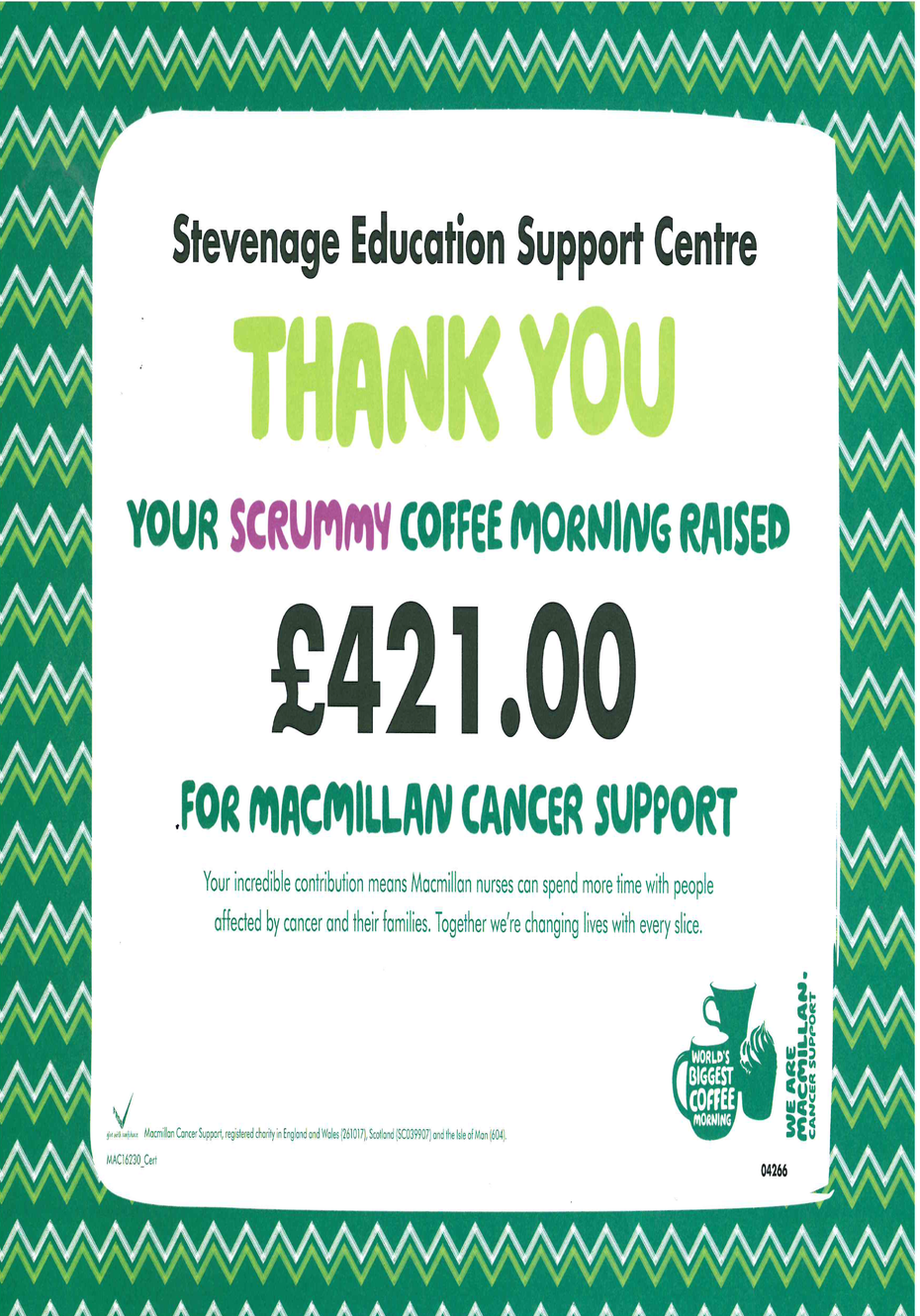 Special thanks to Gill Briars who organised the whole event and Kelly Parker who helped to construct the profiterole tower!